I hope you are doing well. I'm writing to you today from my home office where I'm busy writing several small town contemporary romance stories which take place in Solomons Island, Maryland. I can't wait to share them with you! If you have never heard of Solomons Island, it's a tiny quaint waterside town located in the southern tip of Calvert County, MD. The main street is lined with shops and restaurants and reminds me of a movie set backdrop. Anyway, it's a lovely town where people can take a stroll on the boardwalk, watch the sunset over the water from their porches and walk through a 30-acre park filled with art and exquisite sculptures.
Here are a few pictures of Solomons.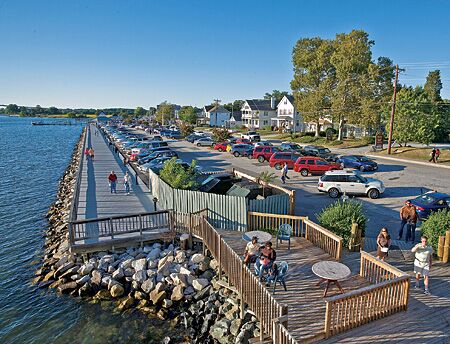 Now, let's dive into today's book goodies.
Free with Kindle Unlimited
This is an entertaining, lyrical love story filled with saltwater, suspense, sweet romance and all the excitement of a summer by the sea…
A thirty year old woman escapes from New York City to a charming beach town on Eastern Long Island. Gorgeous, sandy beaches, ocean view estates and delicious seafood restaurants make her new home an exciting place to live. Lindsey is hoping to find inner peace after a disturbing incident shattered her confidence. Still recovering, she is stuck between the old love of her ex-boyfriend and the allure of a stranger she encounters on the bus. But will Lindsey ever be able to really trust a man again after what happened?
Perfect for fans of Jodi Picoult, Fern Michaels and Nicholas Sparks.
Get it on ➜ Amazon US | Amazon UK 
Free with Kindle Unlimited
He's a real angel . . . Well, not quite. But he's definitely dead.
Annah O'Brian needs cash—and she needs it now. Desperate and tenacious, she's about to make the biggest mistake of her life—commit a deadly sin from which there is no going back. Or up. And she's probably going to die while she's at it. Hell fire awaits.
Jon Smith, recently dead and an angel-in-training, has been assigned to steer Annah off the dangerous path she's set on. That means getting her to change her very made-up mind. It doesn't mean having her fall in love with him. Or him with her. That's just messy.
There's no future for them. Not on earth. Not in Heaven. Not even in hell.
Get it on ➜ Amazon | Amazon UK 
NOAH
This year is about righting an old wrong.
It's also about proving my worth to Coach and helping my team win gold at the French Water Polo Championship.
With an unruly mutt for company and a part-time gig to pay rent, I'm one hundred percent focused on my objectives.
That is, until I catch an intruder poking around my kitchen.
Sophie Bander turns my world upside down.
My new landlord's daughter isn't just the hottest woman alive–she's the stuff of dreams, the object of my deepest, wildest fantasies. But no matter. Nothing–not even Sophie–can make me abandon my goals.
Except… I want her to distraction.
And that's the understatement of the century.
SOPHIE
This year is about proving to Dad I can be a first-class realtor and a worthy associate.
That's why I'm in Paris, learning the ropes at a large agency. When I'm done, I'll go back to Key West, join the family business, and then marry the man of Dad's dreams.
I don't need to be attracted to the guy–I'm incapable of sexual attraction, anyway.
That is, until a hunk of a tenant mistakes me for a thief and presses me against the wall in his kitchen.
Noah Masson turns my life into a mess.
He makes me blush and laugh, and fantasize about him all the damn time. He awakens my body. And yet, not even dreamboat Noah can get me sidetracked from my goals.
Or can he?
Get it on ➜ Amazon | Amazon UK 
That's all for today. Enjoy your day.